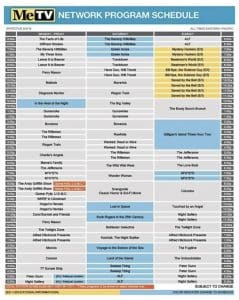 Well, it looks like new MeTV Fall Schedule for 2018 is going to be released soon. It appears to go into effect on September 3rd. Hat Tip to Matt Lewinski for finding this on Facebook and bringing it to our attention. There are some interesting changes.
Super Sci-Fi Saturday Night Fans have a little good news and a little bad news. First, the bad news. Star Trek fans will likely notice that the show is missing from the lineup. You can catch it every night on MeTV's sister channel Heroes & Icons if you're lucky enough to have the station in your area. Batman has also left the lineup for the time being.
Now for the good news… Lost In Space is back at a more friendly family time at 10pm, likely due to the success of the new reboot on Netflix. There's also a very dedicated group of folks on Twitter that livetweet the show, even at the current Red Eye Sci-Fi slot at 2am. Now THAT'S dedication. Following at 11pm is Buck Rogers in the 25th Century, a show the SSFSN and Red Eye Sci-Fi livetweeters have been requesting for some time now. Battlestar Galactica and Kolchak retain their current time slots. Voyage to the Bottom of the Sea and Land of the Giants move to 2am and 3am respectively. They're followed up by two episodes of Swamp Thing and two episodes of ALF.
Other changes to Saturdays include a block of two Beverly Hillbillies episodes starting at 6am followed by two episodes of Green Acres.
On Sundays, there will now be a three-hour tour of Gilligan's Island episodes starting at 2pm and two episodes of M*A*S*H starting at 7pm.
The Monday through Friday schedule remains largely unchanged with the exception of In the Heat of the Night joining the lineup after Diagnosis Murder and two episodes of Petticoat Junction on Fridays at 5am.
Click here to see a preview of the schedule (subject to change, of course!).