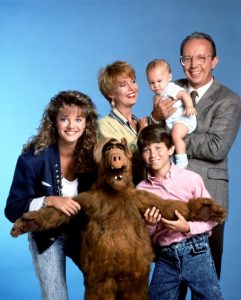 When alien ALF (Alien Life Form) Gordon Shumway from the planet Melmac, crash lands in the garage of the Tanner family, they take him in and hide him from the Alien Task Force.
ALF Broadcast History
Network: NBC
Broadcast: 1986-1990
First Broadcast: September 22, 1986
Last Broadcast: March 24, 1990
Sep 1986-Feb 1990, Mon 8:00-8:30pm
Mar 1990, Sat 8:00-8:30pm
Cast
Actor
Character(s)
Paul Fusco
...
ALF (voice & puppeteer)
Max Wright
...
Willie Tanner
Anne Schedeen
...
Kate Tanner
Andrea Elson
...
Lynn Tanner
Benji Gregory
...
Brian Tanner
Regulars & Guest Stars
Actor
Character(s)
John LaMotta
...
Trevor Ochmonek
Liz Sheridan
...
Raquel Ochmonek
Josh Blake
...
Jake Ochmonek
Anne Meara
...
Dorothy Halligan
Jim J. Bullock
...
Neal Tanner
Mihaly "Michu" Meszaros
...
ALF (full body suit)
Theme Song / Opening Credits
Episodes
Trivia
Since the end of the show, several of the cast have voiced dissatisfaction they experienced during filming. Due to the technical demands of the show, work hours were long and tensions were high. None of the actors cared for playing second fiddle to a puppet.
---
Each episode title is also the name of a song, which is central to the plot.
Quotes
ALF: Justice will not rest.
Kate: What if I gave justice a cookie?
ALF: Justice will think about it.
---
ALF: Haaa! I kill me.
Websites
ALF Forum ( Forum ) – Connect with fans of ALF in our forums.
Photo Gallery
Merchandise