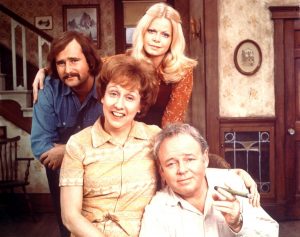 Adapted from the British tv series "Till Death Do Us Part" by Norman Lear, All In The Family changed the face of sitcoms. It was not afraid to tackle controversial, difficult, and downright taboo issues head on. The show followed the lives of the blue-collar Bunker family, which consisted of bigoted, but lovable Archie, his sweet wife Edith, their daughter Gloria, and son-in-law Michael "Meathead" Stivic.
Broadcast History
Network: CBS
Broadcast: 1971-1979
First Broadcast: January 12, 1971
Last Broadcast: April 8, 1979
Jan 1971-Jul 1971, Tues 9:30-10:00pm
Sep 1971-Sep 1975, Sat 8:00-8:30pm
Sep 1975-Sep 1976, Mon 8:00-8:30pm
Sep 1976-Oct 1976, Wed 9:00-9:30pm
Nov 1976-Sep 1977, Sat 9:00-9:30pm
Oct 1977-Oct 1978, Sun 9:00-9:30pm
Oct 1978-Apr 1979, Sun 8:00-8:30pm
Cast
Actor
Character(s)
Caroll O'Connor
...
Archie Bunker
Jean Stapleton
...
Edith Bunker
Sally Struthers
...
Gloria Stivic
Rob Reiner
...
Michael Stivic
Regulars & Guest Stars
Actor
Character(s)
Mike Evans
...
Lionel Jefferson
Isabel Sanford
...
Louise Jefferson
Sherman Hemsley
...
George Jefferson
Allan Melvin
...
Barney Hefner / Sgt. Paul Pulaski
Jason Wingreen
...
Harry Snowden
Betty Garrett
...
Irene Lorenzo
Danielle Brisebois
...
Stephanie Mills
Theme Song / Opening Credits
Episodes
Trivia
Harrison Ford was offered the role of Michael Stivic, but turned it down because he thought that Archie Bunker was too offensive.
---
All In The Family was the first tv show in which all of its principal actors won Emmy awards.
---
The first toilet flush on tv was heard on All In The Family.
---
Penny Marshall was considered for the role of Gloria and, at the time, was married to Rob Reiner.
---
Original ratings for the show were so low that it was in danger of being cancelled. However, it gained a substantial following during summer re-runs and was renewed for another season.
---
The Smithsonian Institute in Washington, DC has Archie and Edith Bunker's easy chairs on display.
Quotes
Archie Bunker: Get out of my chair, Meathead!
---
Archie Bunker: Like the Good Book says, "Let him who is without sin… be the rollin' stone."
Websites
Photo Gallery
Merchandise