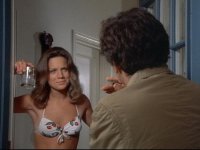 When the franchisee of a health club chain discovers the founder, Milo Janus, is cheating him. To keep him from going to authorities, Milo murders his partner, making it look like an accident in the gym.
---


Air Date: 09/15/1974
Series Episode #: 26
Season: 4
Episode: 1
Guest Stars: Robert Conrad, Gretchen Corbett, Pat Harrington, Jr.