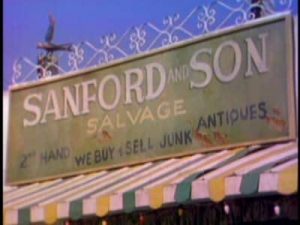 Network: NBC
Broadcast: 1972-1977
Broadcast History
We don't have a broadcast history for this show yet.
Cast
Regulars & Guest Stars
Theme Song / Opening Credits
Episodes
There were 6 seasons and 135 episodes of Sanford and Son. We have not completed an episode guide for Sanford and Son yet.
Trivia
We don't have trivia for this show yet.
Quotes
Fred Sanford: You hear that, Elizabeth? I'm coming to join you, honey.
Websites
Photo Gallery
Merchandise